Personal Banking
North Star Bank's Debit MasterCard Program
Quick Links:
North Star Bank's Debit MasterCard Program
Debit MasterCard™
North Star Bank is now offering the following types of Debit MasterCard's™:
Personal
Business
HSA (Health Savings Account)
Debit MasterCard® is accepted at millions of merchant locations worldwide, including restaurants, hotels and online retailers.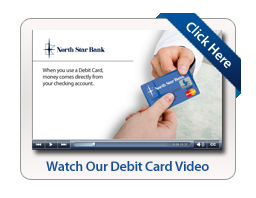 Accepted around the world wherever major credit cards are accepted
Safer than carrying cash
Detailed transactions on your monthly checking statement
UChoose REWARDS POINTS! Start earning rewards points when you use your Debit MasterCard®.

Click here to enroll your card at UChoose Rewards to start earning points.

PLUS! You can use your Debit MasterCard® to receive cash back during PIN based transactions at any participating merchant! Simply choose "debit" on the keypad, enter your PIN and the amount of cash you would like back.
SecureCode™– Once you have your new check card, be sure to set up your own MasterCard® SecureCode™ for the best way to pay online! It prevents unauthorized use of your card by acting as a PIN for online purchases.

SecureCode™ is accepted by thousands of retailers.

Click here to learn more, or to register and set up your SecureCode™ today.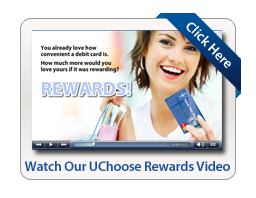 ATM Card
Use your ATM Card to withdraw cash from your checking or savings account, make deposits, transfer funds and check balances at any time. Day or night, you have easier access to your accounts*.
Click the ATM Locator to find ATMs near you
Access to cash 24 hours a day.
Available on checking and savings accounts.
Personal Identification Number (PIN) for safety.
Detailed on your monthly statement.
*Not all services available at all ATMs.